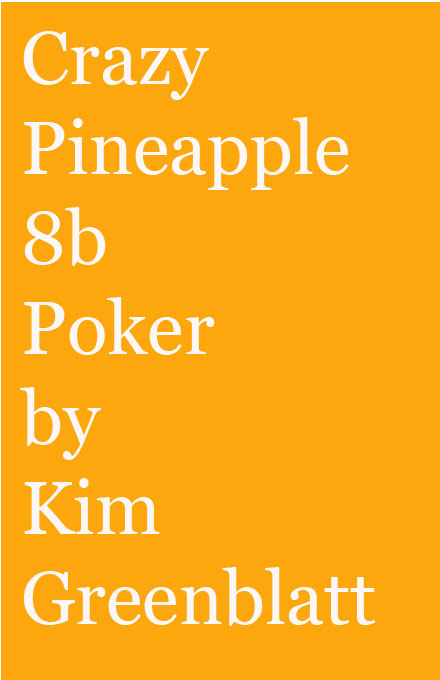 ***** PART OF ALL SALES GO TO RETT SYNDROME RESEARCH.*****
For excerpts from the book Crazy Pineapple 8b Poker please click here .
Publisher: Kim Greenblatt
Published in West Hills , California , USA .
ISBN-13 978-0-9777282-4-4
Library of Congress Control Number: 2006907165
140 Pages US $17.95
Title: Crazy Pineapple 8b Poker
A book by Kim Isaac Greenblatt
THIS BOOK WILL HELP YOU MAKE MONEY!!!
The book is available now!
Residents of the United States can order the book here:
Internationally the book will be out soon in Amazon, Amazon UK and Barnes & Noble as well as other fine stores. If you go to the bookstore to order it, please order it by it's title "Crazy Pineapple 8b Poker" or have them search for the ISBN number: 0-9777282-4-2 (ISBN-10) or 978-0-9777282-4-4 (ISBN-13).
Finally, a book on Crazy Pineapple 8b (highest card value in the qualifying hand is an 8 or lower to win if there is a low hand-it is designated as "eight or better") poker. This is the book that had to be written because there hasn't been a good book about Crazy Pineapple in ancient or recent history. Isn't it time to teach our children and future generations how to play this insane and wonderful game?
Probably not...
Kim Greenblatt, author of "Practical Low and No Limit Texas Hold'em Ring Games" offers the rules, strategies and exercise for playing tthis popular hi/lo split game.
Also briefly covered in the book are the games of Omaha 8/b, Pineapple and Tahoe.
Crazy Pineapple 8b has been a staple home game for years and the rise of poker playing worldwide has generated a comeback.
Learn or get a refresher course on this wacky form of poker with this book.
Published in West Hills, California United States.
Part of the proceeds from the poker book sales go to research for a cure for Rett Syndrome. Rett Syndrome hits one out of every 15,000 girls born worldwide. Boys born with the Rett gene die at birth. For more information visit here
Any interest in me posting some Crazy Pineapple 8b hand situations or puzzles? Email me and let me know!
Good luck and stay healthy!
Suggestions or comments? Please email the author at kimg@practicallowandnotlimitholdem.com
For more information on Rett Syndrome, click here.
For books on other syndromes and conditions that might be of interest to you or others, click here.