FORTY DOLLAR NO LIMIT TEXAS HOLD'EM RING GAMES by Kim Isaac Greenblatt, copyright August 2007, All Rights Reserved
INTRODUCTION
The biggest complaint I get over my books is that I don't concentrate enough on NO LIMIT games and I am light on the page content. Well, dear reader, you asked for it, you got it. This book, meant for people who have been playing Texas Hold'em for awhile is about the $40 No Limit (also known as NL, $40NL, 40 NL - you get the idea) Texas Hold'em Ring and single table Tournament games that have enjoyed a lot of popularity. It will deal with no limit and will be beefier!
Feel free to substitute $40 with $50 and possibly $100 and up to $200 but I wouldn't go any higher since the dynamics start to change once you hit the $200 NL Hold'em tables. The principles that I will cover will generally work for games up to that level as well.
This book is only about NO LIMIT TEXAS HOLD'EM. The examples I will be using are from $40 table buy-ins for either:
* a $40 No Limit Texas Hold'em Ring Game with $1/2 blinds - similar to what is found in card clubs and casinos
-or-
*a $40 No Limit Texas Hold'em Single Table Tournament Sit and Go - where a portion of your buy-in goes to the house. This is either in a standard human game with a human dealer or found with some electronic games found in casinos where the computer, as on the internet, handles the housekeeping chores of collecting the blinds, raising the limits of the blinds and determining who wins the hands. One fills out some personal information, shows an id card, gets an electronic debit card, creates a card pin number and deposits money that is taken out when one sits down at the electronic table games if you are playing at a casino where they are installed.

The $40 NL game has become the de facto low limit standard similar to the 1/2, 3/6 limit games in card clubs and in some casinos. Ease of entry is accomplished due to the low buy in for the game. Players get the same psychological rewards that they would get as if they were playing in higher stakes NL ring games or tournaments. Judging from the swearing and screams I hear, they also suffer the same psychological traumas if they lose!

This book will not cover internet play, per se - I have been playing in casinos and as stated in my other book, Practical Low and No Limit Texas Hold'em Ring Games, here in the United States, I don't support anything that is deemed illegal or at least questionable in terms of online gambling. However, the techniques, exercises and style could be adapted for internet play if one lives in a country where internet gambling is allowed.

So what is different about this book from the others that I have written? This book as stated previously will deal exclusively with NO LIMIT TEXAS HOLD'EM at the $40 level (which means it can be applied to NL games up to $200 with some degree of caution depending on the casino you are playing in).
It is a unique form of Hold'em because even though the basics of poker play that I covered in my other book apply - there are other nuances to take into account because you can have your bankroll wiped out (or doubled up) in your first hand! That usually isn't the case in limit Hold'em unless you are playing short-stacked (without a large enough bankroll).
The climate of poker internationally has gone from resurgence, to mania, to cliche and back to something that is accepted but not quite as popular since the media has moved on to other fads. Please don't get me wrong, poker is still popular on television. There are tournaments televised and that indicates to me a continuing interest. In fact, that is something we take into account in this book. The caliber of player we are facing isn't the same as it was five or ten years ago. Most of the people we are playing know what they are doing (or they THINK they know what they are doing) and factoring that in, can be exploited.
Nothing has changed much with me - I still hate poker but I am pretty good at it. It doesn't hurt me to share my findings with people since I have no illusions about becoming a World Champion nor going broke. The purpose of the book is to help raise money for research into finding a cure for Rett Syndrome and to help remind you of (everybody repeat my mantra with me please!!) "things you already know, but have forgotten".
And for this book - pick up some things to be aware of to make your style like mine - a WINNING style that can make you some money.
As a reminder, you will not win all the time. In fact, just like the cliche, I usually win rarely but the times I win make up for my losses and then some. I also don't win enough to quit my day, night and other jobs (I really need to get a life one of these days...) because of the levels I play at. Remember, dear reader, play at a level you are comfortable at and with a game you are comfortable with.
If you discover that no limit is too gut-wrenching for you (and for some people 40NL can be too much depending on what they like to play), go back to limit play or take a break for a few weeks. Remember it is only a game.
If you find yourself getting obsessed with the game, please stop playing and get professional help for a possible gambling addiction!
What will you find in this book?
You will see my blunders and bone headed mistakes as well as my victories and you will learn at least one or two things to justify the cost of this book, make some extra money in the $40NL game, and maybe plug any leaks in your game style.
A portion from each sale goes to research a cure for Rett Syndrome. Rett Syndrome affects one out of every 15,000 girls born. Boys born with the disease die at birth. A bad deal that we can hopefully resolve through continued research. Rett research findings have helped further advances for autism, cancer and heart research! For more (shameless plug) info check:

http://www.kimgreenblatt.com
and look for YOUR DAUGHTER HAS BEEN DIAGNOSED WITH RETT SYNDROME.

Now let's return to working on our $40 NL game, shall we?
Kim Isaac Greenblatt
August 14 2007
back to the Practical Low Limit Poker homepage and more sample papers
10 DIGIT ISBN/SKU: 0977728277
13 DIGIT ISBN Complete: 978-0-9777282-7-5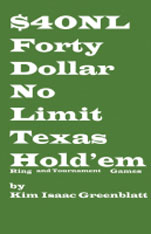 -----------------------------
The book can be ordered in the U.S. at Amazon or Barnes and Noble.
The book can be also ordered from the Gambler's Book Shop here.
UK VISITORS can order the book through Amazon UK on the web.
VISITORS from other countries please order through either Amazon, Amazon UK, or Barnes and Noble. When going to the store please request the book by it's title for ordering "Forty Dollar No Limit Texas Hold'em Ring and Tournament Games" or order the book by it's ISBN number - either the ISBN-10 0-9777282-7-7 or ISBN-13 978-0-9777282-7-5 .
Part of the proceeds from the poker book sales go to research for a cure for Rett Syndrome. Rett Syndrome hits one out of every 15,000 girls born worldwide. Boys born with the Rett gene die at birth. For more information visit here
Interested in learning about the game of craps?
Suggestions or comments? Please email the author at kimg@practicallowandnotlimitholdem.com
For more information on Rett Syndrome, click here.
For books on other syndrome and conditions that might be of interest to you or others, click here.